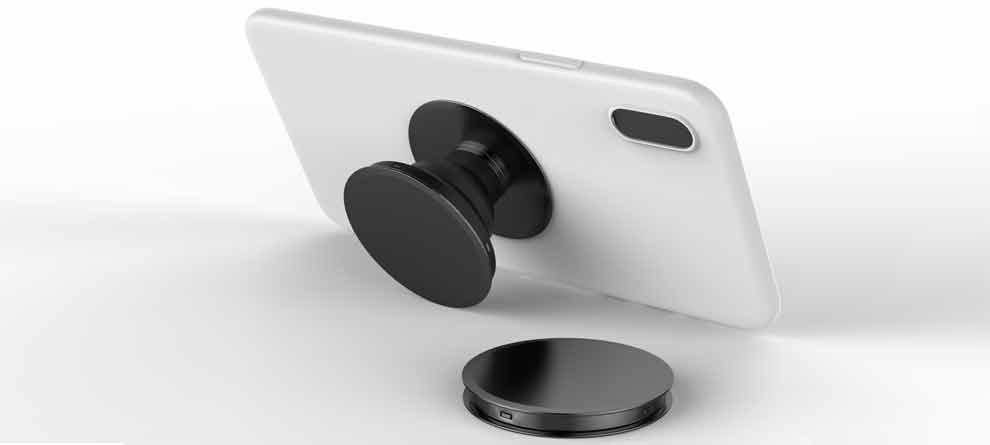 Top Tech for Parkinson's Disease
As symptoms of Parkinson's disease change and progress, many people with the condition find themselves struggling with tasks they once performed with ease. But there's no need to reinvent the wheel when it comes to finding solutions to these daily dilemmas and frustrations. Existing technology and inspiring innovations are helping people living with PD to manage symptoms now—and create hope for the future. 
Get a grip. With Parkinson's disease comes an array of motor symptoms, including tremors, rigid muscles, and unsteadiness. Enter PopSockets, an accessory for your phone that offers a secure grip, easy mounting options, and a built-in stand. Attach one to the back of your mobile device to more easily text, talk, take photos, or use PD apps. In October 2017, the company announced that it would donate 10% of its online sales for the remainder of the year to four different Parkinson's organizations—as part of its Do Good initiative.
Type with ease. BigKeys keyboards are about four times larger than standard keyboards and have colorful keys arranged in alphabetical order, allowing users to find and see the keys more easily and providing a larger strike area for those with motor movement issues. The BigKeys LX even has an assist mode to accommodate those who cannot press two or more keys at the same time. These keyboards can also be used with laptops and iPads!
Walk with confidence. About one-third of people with Parkinson's disease experience freezing episodes—sudden, short blocks of movement that primarily occur while trying to walk. Visual cues have been shown to help trigger movement to prevent and overcome freezing. LaserCane, for example, projects red or green laser lines on the ground in front of you, encouraging you to take longer steps and steadying your gait.
Speak loud and clear. For people with hypophonia, a quiet voice that develops when Parkinson's disease affects vocal cord muscles, SpeechVive can boost their volume dramatically. The medical device plays background sounds in your ear while you're talking, causing you to speak louder, slower, and more clearly. And it turns off when you're not talking.
Cycle faster. Bicycling faster than your preferred, comfortable rate may improve symptoms of Parkinson's disease, including neurological weakness, tremors, and rigidity. PD results in an overall decrease in the level of neural activation in the brain, which contributes to motor problems. Exercising at a forced or augmented rate might increase excitability in the motor cortex, thereby improving symptoms. Try Theracycle, a stationary bike designed for people with PD, which sets the pace, forcing you to keep up. Just be sure to consult with your doctor before starting an exercise regimen!
Share:

|

|