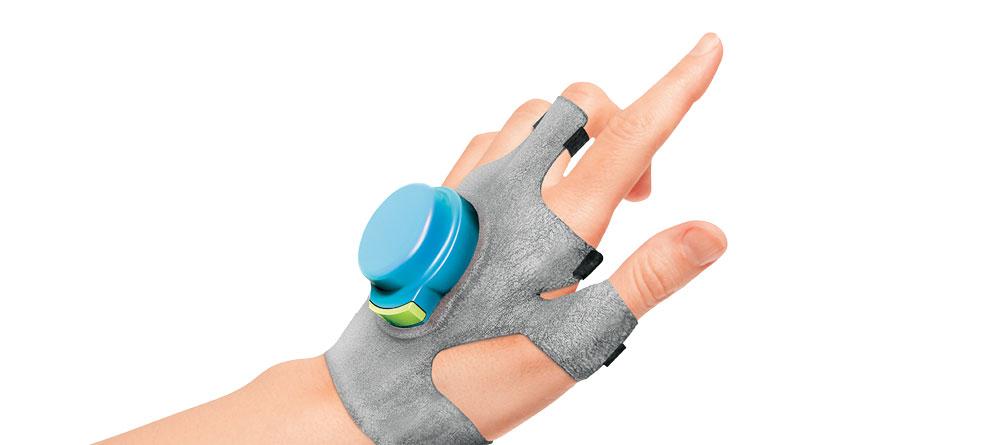 Tech Solutions
Photo: Courtesy GyroGear
Named for its built-in gyroscopes that resist the wearer's hand tremors, the GyroGlove is being tested in the United Kingdom.
Dan Kinel's smartwatch—a computing device worn on his wrist—vibrates as he finishes a phone call with a client.  He checks the notification: time for his meds.  He notes that he has walked 16 miles this week, his sleep cycles are a bit off, and that he has an appointment with his neurologist on Thursday.  While it's top of mind, he sends an email to his doctor, attaching the biofeedback report gatheredby his watch.
Kinel's take-charge attitude is a big shift from how he felt three years ago when first diagnosed with early onset Parkinson's disease.  Initially, the 43-year-old attorney was shocked and distressed, believing all he could do was wait for the disease to take its course.  But with encouragement from friends, family and colleagues, he decided to be more proactive.
When his neurologist offered him the opportunity to participate in a telemedicine clinical trial through University of Rochester—using a wearable device to help him track and report his symptoms—he signed up.  The experience provided information about himself that he'd never noticed before.  "I never really thought of myself as having on/off periods with my medication, but I noticed an increase in tremor within a half hour of the time I was scheduled for another dose," he says.  "It was useful for me to recognize that."
The idea that wearables are tools, which people with PD can use to help themselves, is a recurring theme.  Kinel also joined the online Fox Insight study from The Michael J. Fox Foundation, and is one of the first testers of its smartwatch-syncing app for iPhone.
"People want to do something to help themselves and their family members who might develop Parkinson's," says Claire Meunier, vice president of research engagement at The Michael J. Fox Foundation.
People Power
People with PD also like to feel they're helping their peers.  "There are a lot of people working toward a cure, but they can't do it without patient participation," Kinel points out.  Although wearable technology for healthcare has been in development for almost 20 years, there had not been widespread use of it to help with PD research.  In 2000, Intel started working with The Michael J. Fox Foundation to explore ways that the technology could be used to advance Parkinson's research.
Those efforts led to the partnership between the foundation and Intel now called Fox Insight, and to the sub-study Fox Insight Wearables.
"The traditional research paradigm excludes a lot of people.  Wearable, mobile technology provides a means of virtual participation," says Meunier.
Intel developed a system for collecting data through wearable and mobile technologies, and then analyzing it "with an aim to make it accessible to any researcher in the world," says Ron Kasabian, vice president, Data Center Group, and general manager of Big Data Solutions at Intel.
The Fox Insight online study was launched in March 2015 and, to date, the wearable sub-study has outfitted approximately 600 participants in the United States and 110 in the Netherlands with a smartwatch.  The watch collects data using a built-in accelerometer, which can detect a sudden increase in motion.  Different measurements are extracted using machine learning algorithms, which determine the severity of the patient's motor symptoms.  This data is securely collected, de-identified, and then matched up with patient-reported information, such as medication intake and other general information, and stored in a cloud platform for future analysis by researchers.
In addition to those in the wearables sub-study, 3,000 more people with and without PD have enrolled in the Fox Insight online study.  Participants are asked to complete a questionnaire on their disease progression every three months.  This year, Intel plans to expand the study with an additional 3,000 devices, and enable patients to share the data collected with their movement disorder specialist or neurologist.
"I use my wearable data when talking to my neurologist about the intervals between my medications," Kinel says, explaining why he finds the device useful.  "It's a lot more than just a nifty gadget."
Originally printed in MoreThanMotion, April 2016.
Share:

|

|