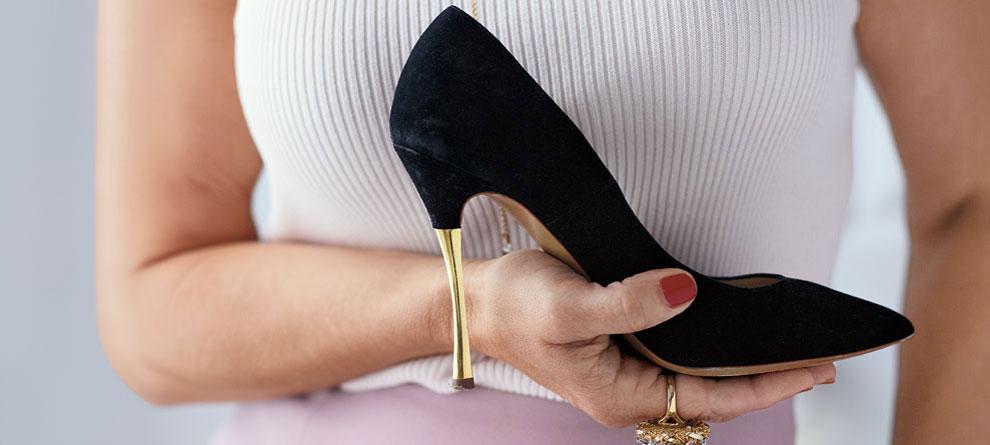 The Shoe Maven's Top Tips
Tonya Walker's closet is filled with more than 120 pairs of shoes: sandals, pumps, slings, platforms, stilettos, wedges and more. But for years—because of the effects of Parkinson's disease—she couldn't wear them. For Walker, losing her ability to wear fashionable, sexy high heels was an intolerable side effect, and one that she was not going to accept without a fight.  In 2014, Walker launched The Shoe Maven, a dynamic blog that embraced her passion for fashion and provided a platform for her Parkinson's advocacy.
Below are some of her tips on fashion:
Don't get tied down.
If dexterity is an issue for you, no matter how divine the shoe's design, if there are too many straps or ties, walk away. Consider spending your money on styles that you won't dread putting on.
Avoid attachments.
"I'm a dress girl; they're easy to slip on," says Walker. "Rompers are stylish but too much work." Pair skirts (without zippers or buttons) with pullovers; for men, try polo shirts or shirts with magnetic closures.
Be accessory-smart.
"I'm not going to make myself crazy trying to fasten a dainty necklace with a tiny clasp." Instead, Walker favors long necklaces and bangle bracelets that slip on or jewelry with magnetic clasps.
Keep a spare pair.
Can't concede to wearing flats with your favorite date-night outfit? Pack a more comfortable spare pair (in your fashionably oversized handbag) to slip on if your feet start to ache.
Originally printed MoreThanMotion, Fall 2016.
Share:

|

|