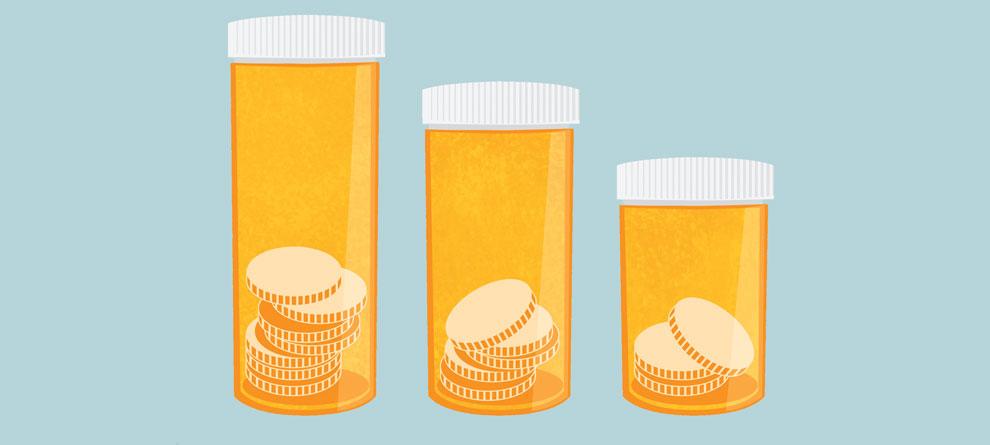 Hidden Help for Those in Need
Illustration by Wesley Soriano
How do the 1 million adults with Parkinson's disease in the U.S. afford to pay for their prescription medication?  According to Karen Campbell, certified care manager and founder of Innovative Aging LLC in East Kingston, N.H., the cost of medication can often be a struggle.
"Everyone needs help paying for prescription medications," says Campbell, who has been assisting the disabled and geriatric population for 14 years in her role as a certified care manager.  "No matter how high someone's income is, it never seems to be enough."  According to the Parkinson's Disease Foundation, medications for Parkinson's patients average out to around $2,500 per year a fee that is, for most families, astronomical."  A lot of people are just barely getting by," Campbell says.
But although the costs of a chronic illness can be steep, Campbell considers herself an expert in saving families money.  Certified care managers such as Campbell are often hired by families to help with complex medical needs, usually in the case of a disability or chronic illness.  Care managers can evaluate patients in person and can help families with caregiving tasks anything from helping individuals apply for Medicare and Medicaid to suggesting an elevated toilet seat in the bathroom.  The job that she's tasked with most often, actually, is helping families figure out how to afford prescription medication.
Can't Afford to Pay?
If you are uninsured or can meet certain need based thresholds, a PAP, or Patient Assistance Program, may offer some relief.  Run by a local nonprofit, a state program or a pharmaceutical company, a PAP may provide prescription medications at a greatly reduced rate.  Patients do need to demonstrate need, and each PAP has different eligibility requirements, for instance, PAPs are usually restricted to those without insurance, or whose insurance does not cover their needed medication.  Patients must also demonstrate financial need, with income limits up to 300% of the federal poverty guidelines.  (Medicare and government insurance patients are not eligible for most copay and financial programs.)
For those who are eligible, patients may be able to obtain a one month supply of medication through a PAP for as little as a $20 or $30 co-pay, "depending on the medication and the company," says Campbell.  In cases of extreme financial hardship, medication and co-pay fees are waived altogether.  "More often than not, I save people a lot of money," says Campbell.
Hidden Gems
Finding a PAP doesn't take much effort, thanks to several reliable and free databases.  On RxAssist.org and RxHope.com, patients can look for PAPs by searching the database by medication or drug manufacturer.  The Partnership for Prescription Assistance provides a database of pharmaceutical and nonprofit PAPs, while medicare.gov has a comprehensive list of state-run programs (called SPAPs).
Applying to a specific PAP, however, is usually when patients get fatigued.  Fewer than half of the states provide SPAPs, and nonprofit PAPs may require an additional fee on top of the prescription co-pay.  Many patients, according to Campbell, apply for PAPs by doing an internet search for the manufacturer and applying for assistance for each drug.
If needed, care managers can step in during the application process and guide clients through the red tape, from completing the basic application to reaching out to the patient's physician, whose signature is needed on the PAP application form.  Once the application is completed, proof of income is attached and a physician signs off.  If the program approves the application, patients can start taking advantage of discounted or free medications.
Ask Your Doctor
For patients who are unable to afford a care manager, physicians can also act as advocates for patients who need discounted drugs.  Physicians can sign off on a diagnosis and provide additional documentation for the PAP application if necessary.  A word of advice while you're in the process: "Don't give up," says Campbell.  "It's hard to research all the programs and make phone calls, but keep at it.  Sometimes you have to keep calling, or you hire an advocate who can help, but it's worth it."
Originally printed in MoreThanMotion, Fall 2016.
Share:

|

|