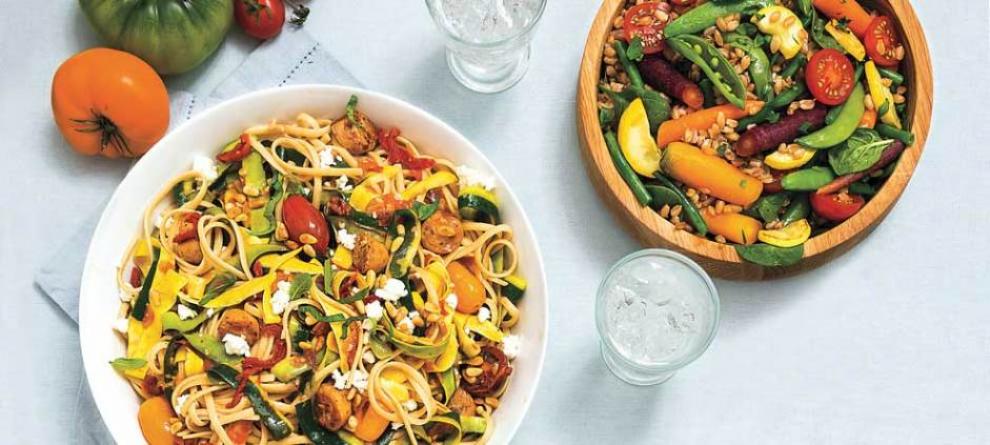 Balanced Meals
Words By Jené Shaw
Photo By Moya McAllister
The nutritional challenges that come with Parkinson's disease can be difficult to navigate, but balanced eating can aid in maintaining energy levels and a healthy digestive system.  According to registered dietitian Lauren Antonucci, owner/director of Nutrition Energy in New York, "By including protein and soluble fiber (fruits, veggies, legumes and beans) with all meals, you can balance out many undesirable common side effects of medications."
Antonucci's advice is to balance protein intake by eating three to four ounces of it two or three times a day.  She also says to limit sugar and salt intake, maintain a high-fiber diet, and drink water throughout the day.  The appetizing meal here, from recipes by Jess Cerra, personal chef and owner of Fit Food by Jess in Encinitas, California, offers foods that are ideal for those with PD.
Farro and Vegetable Salad
This Middle Eastern grain is not only dense in two of the major macronutrients needed for a balanced diet—carbohydrates and protein—it's also easily digestible. 
The symptoms of Parkinson's could have an effect on your appetite and motivation to prepare meals. If you feel too tired to cook, note that cooked farro keeps in the fridge for five days and is easy to toss into salads. Frozen veggies can be substituted for fresh varieties, too.
The colorful vegetables are a great source of fiber to help promote a healthy digestive tract and prevent constipation.
Fettuccine with Squash Ribbons and Tomatoes
If available (they peak in the summer), heirloom tomatoes are popular delicacies that create a bright and fresh sauce for this easily digestible fettuccine dish.
Precooked sausages are a convenient and flavorful protein source, and can also be easily eliminated from dishes if your doctor has recommended that you lower your protein intake.
The squash ribbons keep the meal from being "pasta heavy," for when you lack a big appetite.
Peach or Berry Crisp
This crisp incorporates more fruit into the dessert to increase fiber intake, and also boasts healthy fats from the nuts.
You can use peaches, apples or pears, or substitute three cups berries (fresh or frozen).
To add calcium—helpful in maintaining bone health—top the crisp with yogurt.
Note:  We recommend that you consult with your doctor about your diet and speak to a nutritionist for further guidance.
Originally printed in MoreThanMotion, Spring 2015.
Share:

|

|