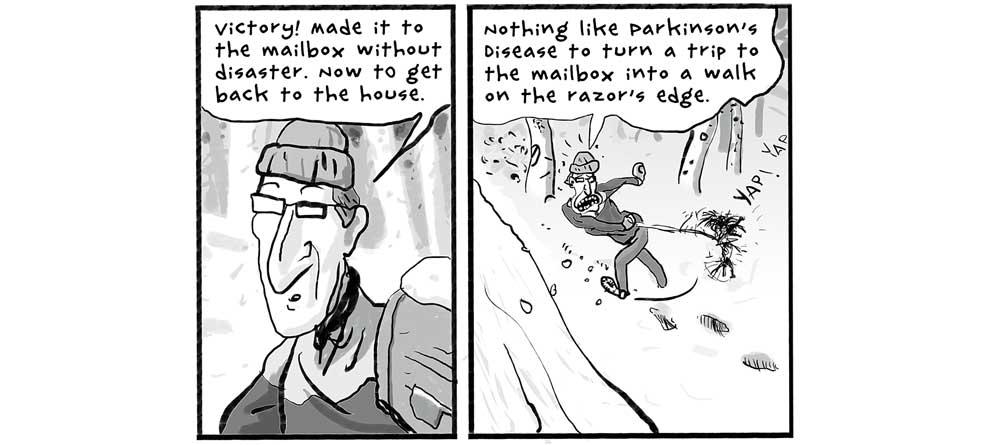 6 Blogs To Follow
    Cartoon Courtesy Peter Dunlap Shoh
    Sharing experiences about living with PD is a great way to find community and share resources. Here's a lively roundup.
    1.            Off and On: The Alaska Parkinson's Rag
    With wit and flair, Peter Dunlap-Shohl writes and draws about the challenges of PD. Ranked a top blogger for those with the disease, the former Anchorage Daily News cartoonist has a graphic novel coming out about Parkinson's called My Degeneration. "There was nobody else I could find making comics about Parkinson's," he says, "so I thought it would be interesting and fruitful to try it." 
    2.            Living Well With Parkinsons Disease
    Sheryl Jedlinski, who lives with PD, blogs about everything from cooking to family to physical therapy. She is also co-founder and editor of PDPlan4Life.com. 
    3.            A Soft Voice In A Noisy World: A Guide To Dealing And Healing With Parkinson's Disease
    Karl Robb chronicles the ups and downs of living with Parkinson's since age 23 on a blog that shares its name with his book. 
    Artist Terri Reinhart discovered a creative outlet with her blog. "I started writing when I was diagnosed with Parkinson's. It helps me to process all the crazy, wonderful things in life," she says. 
    5.            Life as Us
    Eric Neiman shares the ups and downs of young-onset Parkinson's disease, as well as the joys of raising a family with wife Alli—not to mention being in the funeral business. One post is about making their nursery PD-friendly. 
    6.            Journal of Parkinson's Disease
    Award-winning journalist Jon Palfreman blogs about Parkinson's research at the online home of JPD, a resource for patients curious about where the field is headed. 
    Originally printed in MoreThanMotion, Spring 2015.
Share:

|

|